The Hercules Unbreakable Helicopter is billed as "World's First and Only Unbreakable RC Helicopter." A bold statement for a remote controlled toy made primarily of plastic. So, we thought we would give it a test and decide if that statement is true. World Tech Toys sent us one to put it through the "ringer."
A few things you will want to know if you purchase the Hercules Helicopter. There are several instructions missing in their short instruction manual. It took us a little bit of time to figure them out.
On one side you have two wires, a red and a black, that are attached to plug. This activates the internal battery to the helicopter. Make sure you plug this in before you charge the helicopter with the wall adapter or it won't charge. On the other side you will see the ON/OFF switch.
The Hercules is a 3.5 channel gyro remote controlled helicopter that has a rechargeable battery in the helicopter itself, whereas, the handheld controller requires six AA batteries, which are not included. When the helicopter is charging, the light on the wall adapter will change from dark orange, to medium orange and then to green when it is fully charged. It takes several hours for the helicopter to charge and the charge lasts up to a half hour, depending on usage. At times the helicopter battery would only last 15 minutes but as we got better at controlling it, the battery would last longer. We did not actually monitor the recharging time to the exact minute though but this gives you a rough idea.
The Hercule Unbreakable Helicopter is designed for children ages 8 and up. While this helicopter is geared towards kids, we found out that it takes an adult to figure out how to control it before the kids can really get the full advantage out of it. It can be a bit frustrating at first, but then it's a whole lot of fun. Kids may enjoy it better by using it with their parents.
Specifications, as stated in the manual:
Body length: 15.5 inches
Body width: 2.75 inches
Body height: 7.75 inches
Main rotor diameter: 13 inches
Weight: 0.5 pounds
Fight time: approximately 8 minutes
Charging time: 90 to 120 minutes
Max distance: 150 feet
The controller has controls for throttle, trim, forward / backward, and right / left turns. The body of the helicopter is made of durable plastic and the frame is composed of super strong polymer. Within the helicopter there is an internal gyroscope for stabilization. It has coaxial rotors with a stabilizer on top of them. A LED light is mounted at the front and colored LED lights are mounted on the tail. Extra rotor blades are provided. Extra pieces included are two rotor blades, tail rotor, and skid pads. The lights look very cool at night.
They also claim that you can step on it and it will not break, further stating that the "helicopter body can take up to 200 pounds of force." We were bound and determined to test these claims as the last "toy" helicopter we reviewed lasted about 5 minutes.
It passed the durably test. Several times it was flown (we have a lot of trees on our property) into tree branches above 50 to 60 feet off the ground and it survived the crash upon impacting the ground. The only thing that broke during our test was the tip of one of the rotor blades but that was after many attempts. I guess those are not as durable and why they give you extra in the box. Although not at 200 pounds, we performed a 160 pounds of force test without damage to the body. Low wind conditions are best as it is effected by the wind.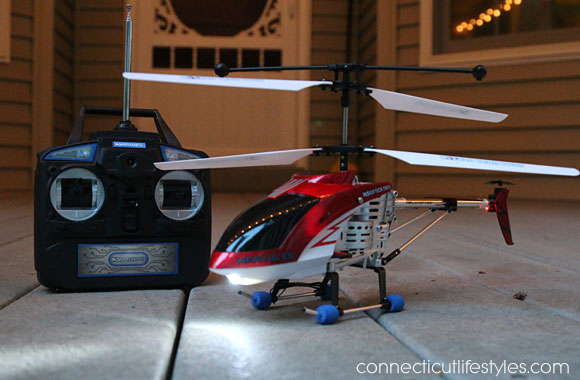 The Hercule Unbreakable 3.5CH Gyro Helicopter is just under $55.00 (cheaper on Amazon. It would be a great gift.
Overall, the Hercule Unbreakable Helicopter lives up to claim of being the "unbreakable helicopter", at least for the test we put it through. I suppose one could break it if the try hard enough, but for normal use, it did not break. The Hercules Helicopter is a lot of fun once you learn how to maneuver it. It takes practice to learn to fly it other than up and down or in a tight circles. Just be aware of the time it takes to recharge it so you can plan your playing time accordingly.