Events Search and Views Navigation
Ice Castles North Woodstock, New Hampshire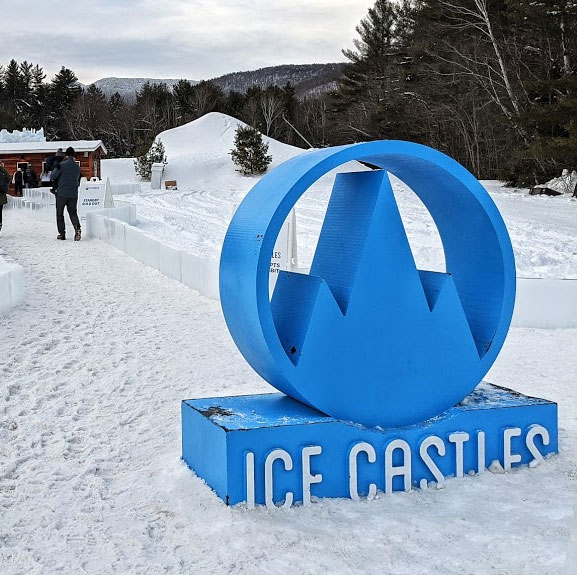 Take the family on a road trip from Connecticut to North Woodstock, New Hampshire to enjoy the Ice Castles.
Ice Castles brings fairy tales to life in North Woodstock, New Hampshire. Let your imagination run wild as you explore caverns and tunnels made entirely from ice. Race down an ice-carved slide and squeeze through crawl spaces and slot canyons to discover new experiences around every corner.
January 1, 2021 Virtual Event: If you can't make it to New Hampshire this year, you can visit the Ice Castles virtually. Just RSVP to the Facebook event for updates and reminders.
With fountains, thrones, wishing wells, and more, you'll be mesmerized by this unique, and family-friendly attraction. Don't miss your chance to experience the magic!
New Hampshire Ice Castles is an award-winning frozen attraction located in four cities across North America.
Tickets MAY be available on-site if Ice Castles is not sold out. On-site prices are subject to higher rates. For guaranteed entry and the lowest price, buy tickets online in advance.
2021 Ticket prices:
General admission weekday (Monday-Thursday) (ages 12+): $19.99
General admission weekend (Friday, Saturday) (ages 12+): $24.99
General admission weekday (Monday-Thursday) (ages 4-11): $14.99
General admission weekend (Friday, Saturday) (ages 4-11): $19.99
COVID Restrictions: A 6-foot distance must be maintained between each household group at all times while seated. Guests are required to wear masks / face coverings in common areas, near other guests, and when interacting with employees.
Customer Support: supportnh@icecastles.com
---
If you are looking for "things to do in Connecticut this weekend" we have you covered. Sign to get our Free Weekly Event Newsletter to help you plan your weekend. Kids and Family events abound in every town in Connecticut.
Our main coverage is for things to do in Southeastern Connecticut for the towns of Bozrah, East Lyme, Franklin, Griswold, Groton, Ledyard (Gales Ferry), Lisbon, Montville, Mystic, New London, North Stonington, Norwich, Preston, Salem, Sprague, Stonington, and Waterford. However, we also add some events for New Haven, Hartford, Old Saybrook, Westbrook, Madison and a few other towns we feel our readers might be interested in.
Interested in a friendly game of cards, a bike ride, or a hiking event? How about a 4K run, a Halloween party, or Christmas event. Connecticut is filled with lots to do. You just need to know where to find something fun to do in Connecticut. Look through our events calendar or type a keyword in the box to find a type of event. Click on the events categories in the menu to find even more fun events and you will never be bored in Connecticut.